There's been a lot of talk about cryptocurrency in recent years, but not many people can actually use it to pay for everyday goods and services – yet. Most are into it just for the quick buck while some were just HODLing and waiting for mainstream adoption. However, more small businesses are accepting crypto.
If we know that cryptocurrency is here to stay, how do you prepare your business for the coming of this new era in cashless transactions? And when is the right time to start learning and actually using cryptocurrency in our day to day transactions?
Increased Adoption for Business Use
Cryptocurrency has been adopted by many small businesses across Western, European, and some Asian countries with more than 14,000 venues worldwide currently accepting cryptocurrency as of late. Adoption has doubled from 2015 to the present and big institutional investors are stepping in this 2019.
Data from Coinmap.org reveals an interesting growth in businesses accepting cryptocurrency payments from 2013 to the present:
2015 – 6,970 venues
2016 – 8,035 venues (up by 15.28%)
2017 – 11,189 venues (up by 39.25%)
2018 – 14,124 venues (up by 26.15%)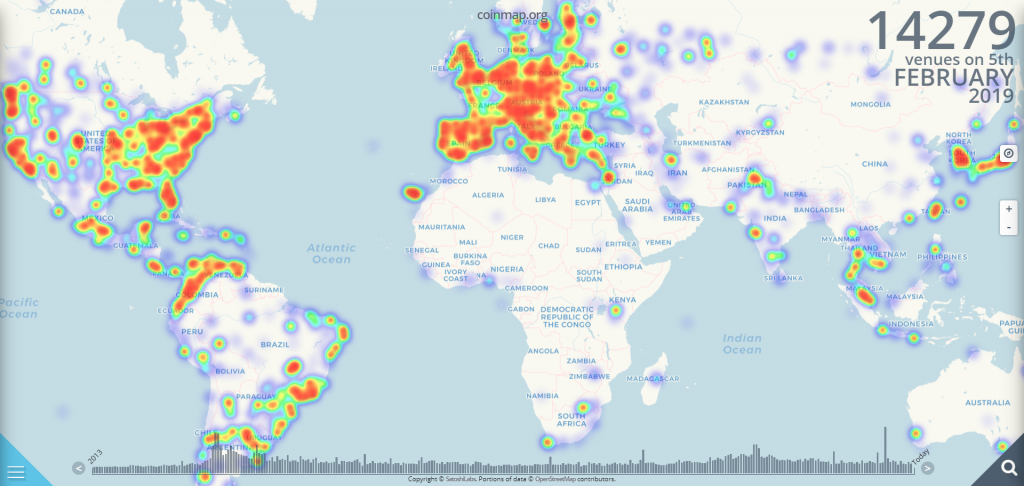 Small businesses are starting to impact mainstream adoption and we could see a dramatic change on how we do businesses in the next 3 to 5 years. Businesses will have to adapt quickly if they are to stay competitive and relevant with their new breed of customers (esp., millennials and tech-savvy users).
Here's how small businesses are paving the way towards mainstream adoption:
Easy access to cashless transactions. Before cryptocurrency, banks and financial institutions have the sole authority over who may or may not have access to their financial services. Fast forward to our present day, people are now able to transact peer-to-peer with their mobile phones and have access to cryptocurrency in a multitude of ways from mining, to crypto-exchanges, online and over-the-counter (OTC) markets, airdrops, bounty hunting, and the list goes on. Small businesses help further the cause by making it much easier for people to spend their cryptocurrencies much like their debit and credit cards.
Change people's attitude about crypto. It's hard to imagine living on cryptocurrency until someone walks the talk and shows you how he did it. Olaf Carlson-Wee, former Head of Risk at Coinbase, proved it is possible to live on Bitcoin with help from businesses accepting Bitcoin payments like Overstock, CheapAir, Shopify, and Newegg. Small businesses are also doing their share by usinig cryptocurrency gateways and processors like Coinbase and BitPay, enabling them to get paid in cryptocurrency just like with any other currency. Users will stop thinking cryptocurrency only as a store of value and start using it the way it supposed to work.
Accelerate growth in cryptocurrency users. Cryptocurrency's market cap is nowhere near to fiat – at least, for now. But what if people started using cryptocurrency to pay their bills, groceries, and stuff instead of being just a store of value? Imagine what this can do to a cryptocurrency's value. Businesses will continue to move cryptocurrency forward by helping the unbanked to get as much access to cashless transactions as people with bank accounts. Check out useofbitcoin.info for a list of small businesses currently accepting Bitcoin payments over the internet or go to coinmap.org to find local shops and stores accepting cryptocurrency payments near you.
Dealing with Fees, Confirmation Times, and Volatility
Business owners who are new to cryptocurrency are reluctant to the idea of accepting cryptocurrency when they hear about fees, confirmation times, and volatility associated with it. But this will be a thing of the past with recent developments in second-layer solutions (e.g., Lightning Network) and payment processors (e.g., BitPay).
Here's how small businesses can start accepting cryptocurrencies and their pros and cons:
1. Accepting cryptocurrency payments through mobile wallets –Pretty straightforward. Business owners setup their own wallets like Copay (Bitcoin only) or Jaxx (multi-currency) and have customers send their payments straight to the wallet address by scanning a QR code. It's the old way of doing things, which can have some advantages and disadvantages for the business owner.
Pros:
private keys are stored securely within the device
customers pay for transaction fees
no service fees
Cons:
risks associated with unconfirmed transactions (3-6 confirmations are needed to be secure)
faster confirmation means higher transaction fees for the customer
no protection from volatility
2. Cryptocurrency merchant services – Merchant services like BitPay reduces the risk associated with cryptocurrency's volatility while making it easier for both customers and business owners to send and receive cryptocurrencies. Small businesses can now have the option to take cryptocurrency payment as is, or convert them straightaway into its fiat value during the sale. There would be some tradeoffs for using the service but in return, business owner will also get some of the good stuff.
Pros:
users own the private keys in some payment processor app (e.g. BitPay)
risk associated with volatility can be reduced significantly
fast and secure
Cons
service fees
still requires confirmation (BitPay requires at least 6)
some issues with compatibility
3. Payment channels through lightning wallets – Although still considered nascent, second-layer solutions such as Lightning technology is already showing a lot of promise. One of the earliest implementations such as Éclair wallet allows merchants to open channels (which are basically just smart contracts) with regular customers and transact indefinitely with as many micro-transactions as they wish without worrying about fees or confirmation times, and only pays transaction fees when closing the channel (time lock expires or both parties decides to close the channel).
Pros:
"lightning-fast" transactions
near-zero transaction fees
users keep their private keys
Cons
still in the works and are mostly experimental
may require business owners to run their own lightning nodes (partial or full copy of an updated blockchain ledger)
same with using regular mobile or hardware wallet, users are pretty much exposed to volatility.
Conclusion
There's never been a perfect time to learn about cryptocurrency than today. It's only a matter of time before cryptocurrency is used for everyday transactions. It could be just around the corner or we might have to wait for another five to ten years. Either way, it sure won't hurt if people will start learning about cryptocurrency as early as now and be a step ahead rather than trying to catch up with the competition.
If you're a small business, Metropolee Team Building System (MetroTBS) can help you build your customer base by making it easier to reach out to new and existing customers. MetroTBS has a business finder app to help you connect with your customers and with over 100 features, the possibilities are limitless.