Small business owners rarely write their own copy. Most of the time, they have copywriters to do it for them. The great thing with copywriting is it's a learnable skill. It's not rocket science. You can start with a few basics and build your copywriting skills as a business owner.
Let's take a look at copywriting and find opportunities to practice copywriting for your landing page, sales funnels, and email campaigns.
More Research, Less Writing
Copywriting looks a bit too easy. After all, you just need to find the right words to get more people to buy from you. But after spending hundreds of hours on your first copy, you realized you can't just write a bunch of emails, send them to everyone on your email list, and expect to find more customers.
Copywriting is 80% research, 20% writing. So, before writing your copy, you'll need to get these down first:
Value proposition. This answers the question, "What's in it for me?" or "Is it for me?" To answer the question, you'll need to do some research. Interview people, conduct a survey, look for customer reviews at Amazon, or visit forums like Reddit. Try to look at people's problems and frustrations, and create your value proposition around those issues.
Target Audience. These are the people who will benefit most from your product or service, also known as your ideal clients. One commonly used method is to come up with a detailed buyer persona to guide your marketing efforts.
Customer Segmentation. Since you'll be doing a lot of email marketing through your autoresponders, segmenting your email list is a must. Lay down a list of categories in your demographic such as age, gender, specific interests, brands, etc. This will come in handy when writing your email copy for your drip mails and email campaigns.
We won't go much into the details like the length, type of language, and font size. You can find lots of video tutorials on copywriting over the internet. Instead, we'll give you some ideas on how to practice your copywriting with our Small Business Dream Sales and Marketing Automation.
Landing Page Copy
Internet marketers spend a ton of work on their landing pages, for good reason. Landing pages are essentially print ads and commercials on a web page, but they're more specific to a given audience and allows for user interaction (call to action).
A well-written landing page copy can instantly double your sales and is way more cost-effective compared to traditional advertising. However, you can't just read one article and write amazing copy for your landing pages overnight. You need to do some actual work and test things out yourself. Small Business Dream Sales and Marketing Automation helps you become a better copywriter by giving you templates to experiment on.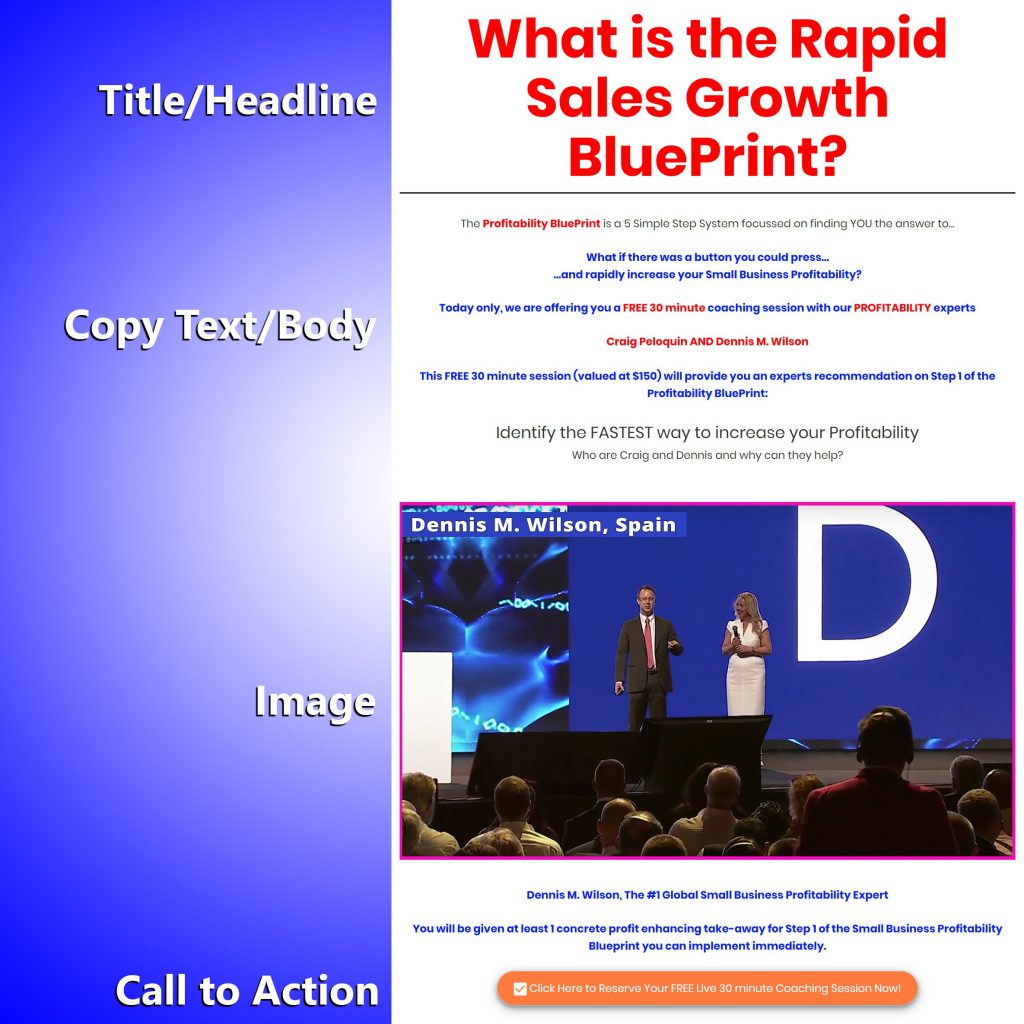 Notice there's no navigation like a typical website. Landing pages are more direct-response — visitors will either leave your page or take the offer (click the 'call to action' button). Your copy should state your value proposition in your title and copy text.
You can slowly improve your landing page copy by making a slightly different version of it to see if it makes any difference on your conversion rates. Small Business Dream provides an easy way to do your own A/B Split Testing or you can try our DFY (done for you) package and have our team of experts set it up for you.
Sales Funnel Copy — the AIDA Principle
For those who are new to sales funnels, AIDA stands for Attention/Awareness, Interest, Desire, and Action. These are sequential steps your visitors take in the buying process. Some compare this to a buyer's journey.
Sales funnels are extremely versatile. You can use it solely for sales conversion or for many other purposes such as up-selling, cross-selling, one-time offers, customer acquisition, lead generation, and so on. You can practice your copywriting skills using Small Business Dream's sales funnel template.
Begin with your title and value proposition, similar to a landing page. However, with sales funnels, you can take a step further. You'll be able to narrow down your audience to a particular type of customer based on how they respond to your offer. They can take the offer straight away, choose a different option, or they can decide later, in which case, you can keep them interested by offering freebies, one-time offers, and newsletters.
Sales funnels are a bit slower compared to direct marketing, but the goal is pretty much the same. One advantage of using a well-executed sales funnel is that it almost guarantees high-quality leads and repeat customers every single time. Combined with a solid email marketing strategy, sales funnels are an amazing, must-have tool for your small business.
Small Business Dream Sales and Marketing Automation offers a complete suite of tools designed to rapidly grow your sales from landing pages, sales funnels, customer acquisition, email auto-responders and more.
Email Marketing Copy
Email never gets out of style. Don't believe it? Find any Android and iOS phone that doesn't have a built-in email app, or any online service that doesn't require an email account (think Google Play, Apple Store, etc.). However, getting people to open, let alone respond to your emails is more challenging than ever.
The problem lies with not being able to properly segment your email list and poor copywriting skills, e.g. sounding too robotic or salesy. The key to successful email marketing is to be relevant with your recipients. Hence, you have to be very specific with your email copy.
What's truly amazing is that with Small Business Dream Sales and Marketing Automation, you can fine-tune your email campaigns, drip mails, and follow-ups, all the while using automation. Set up a survey page, and automate certain tasks like sending them to your landing page, sales funnel, or switch to a different email series when clicking specific items on your survey page.
Another strategy we've talked about in our previous blog about the best follow up tips for small businesses is by giving value each time you send an email like a newsletter or links to highly informative blog articles. Once again, be very specific whom you're sending to. All your email marketing efforts will be a waste of time if you're just sending them out to random people.
Conclusion
Need help promoting your own business? We'd like to spend some time with you. We offer a FREE Sales and Profitability consultation where we identify key aspects in your business to rapidly boost your sales. Come visit us at www.smallbizdream.com to learn more about our 5-step system to rapidly grow your sales and profits with less stress.