CRM and sales and marketing automation have been game-changers in the small business sector. Thousands of small businesses use them on a daily basis. But with so many options, how do we choose the best ones and where can we find the perfect balance between versatility and ease of use?
In this article we're going to take a look at two of the most popular small business software and compare it with Small Business Dream sales and marketing automation.
Comparing Apples to Apples
We've chosen Infusionsoft, Hubspot, and Small Business Dream for our side-by-side comparison because they all feature a combination of CRM and sales and marketing automation geared towards small business owners with a basic knowledge about business software.
We'll be focusing on the 3 key areas, namely user experience (UX), CRM tools, and sales and marketing automation.
User experience – We'll take a look at the software in terms of how easy it is to navigate with minimal training (ease of use). The more intuitive and agile, the better.
CRM tools – These include contact management, categorization (sorting), lead scoring, and the ability to keep track of conversations and interactions between software users and customers.
Sales and Marketing Automation – Methods used for lead generation and sales conversion such as landing pages, social media outreach, campaign builders, and email autoresponders.
Infusionsoft
Infusionsoft is a popular small business software that's been around for nearly two decades. It has been re-branded as Keap in 2019. If you've never been around CRMs or sales and marketing automation, you can fast-track your learning curve by going through their kickstarter coaching package to make full use of its features and functionalities within a few weeks.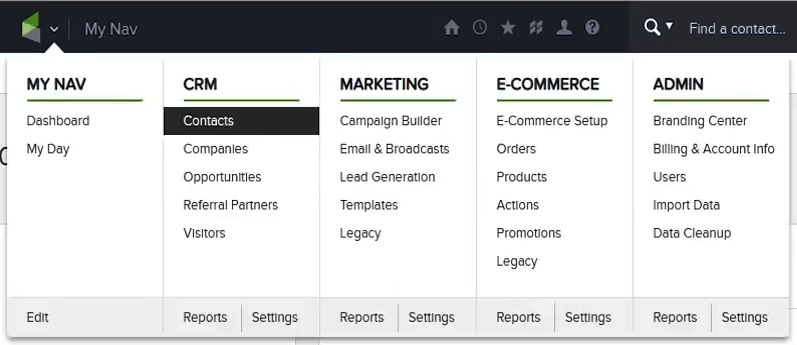 Infusionsoft's no-frills menu makes it easier to navigate through the CRM and Marketing tools. We always prefer a simple layout with just the essential elements for a more streamlined user experience.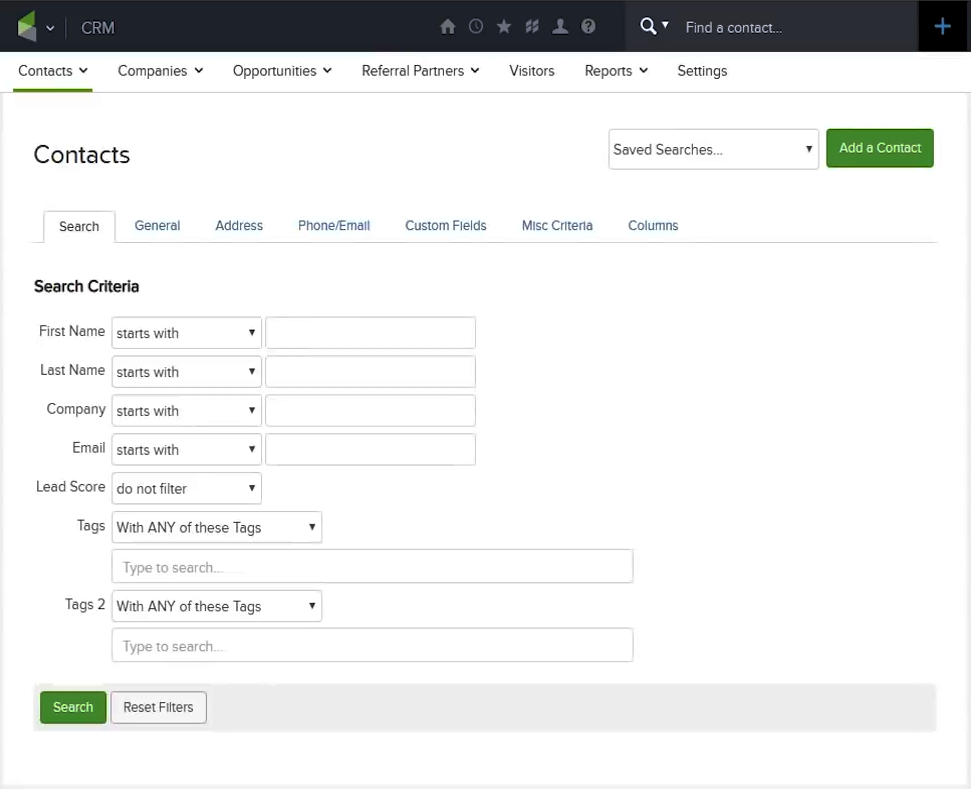 The layout is quite intuitive for an average CRM user. It also has a My Day feature (similar to Small Business Dream's Action List) which allows users to see all their current tasks at a glance.
Infusionsoft's CRM tools are pretty straightforward. Users can tag their contacts, assign lead scores which can be tied to specific information about the client or predetermined rules set by the user, and track all customer interactions including completed tasks, notes, recent email history, and so on.
These CRM features are intertwined with its sales and marketing automation. The idea is to make going from one section to the other as seamless as possible. We see this mostly with business software which blends the two into one (including Small Business Dream).
Sales and marketing automation is somewhat more advanced for the average user. But to be fair, Infusionsoft has made considerable effort to simplify the tasks by using graphical, drag-and-drop style menus for its Campaign Builder and email automation.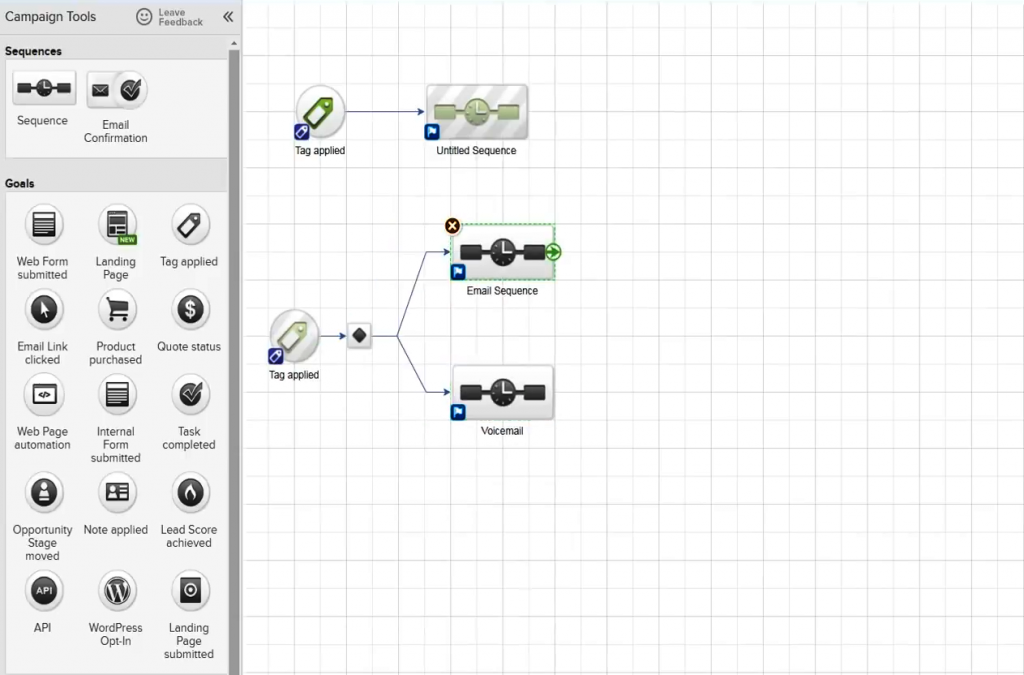 In the Campaign Builder, for example, email sequences and triggers (called "Goals") are laid out on a virtual "drawing board" instead of the typical user form or page with text fields. Some find it easier to work with while others prefer just the basic GUI. It depends on which side you lean on. We prefer a more minimalistic approach while retaining all the great features in the Campaign Builder.
Email and Broadcast features are similar to other sales and marketing automation software. Landing pages, on the other hand, are integrated in the Campaign Builder instead of being just a standalone feature.
Lead generation is done via Web Tracking and Lead Sources. With web tracking, users embed Infusionsoft's tracking code into any of their webpage HTML. The other method involves assigning lead sources to contacts manually (these are contacts you've uploaded via CSV file or typed into the system from a business card, etc.)
This is where things begin to look a little complicated for most people and why we think Small Business Dream is far more superior when it comes to lead generation. Users have limited options as most leads would come from Infusionsoft's own database and the process of assigning lead sources to contacts is quite challenging to wrap our heads around. We've designed a more elegant solution which not only simplifies the task, but also target specific clients with almost surgical precision.
Hubspot
Another popular small business software, Hubspot puts a lot of emphasis on inbound marketing. It even has its own Blog section which is not very common for this type of software. However, compared to Infusionsoft, we found Hubspot to be a little bit less intuitive for average users, and therefore require a lot of familiarization of how each individual piece work in a cohesive way.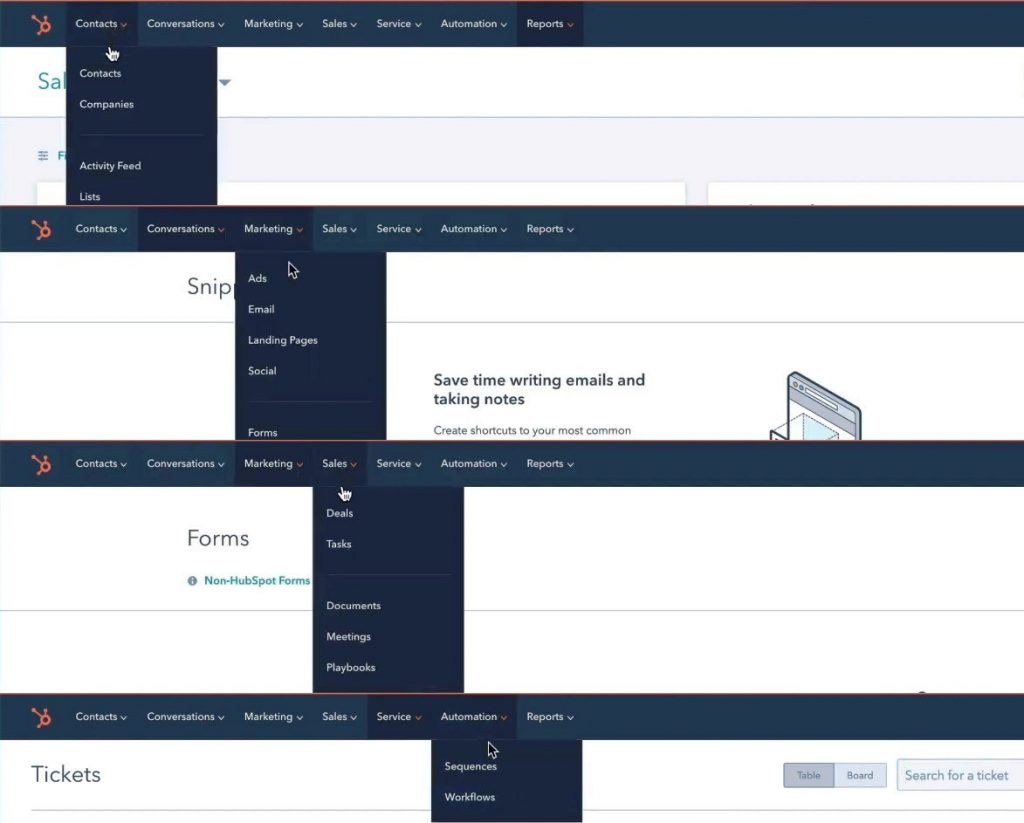 Upon exploring, we noticed similar features, but Hubspot seems to have moved things a little bit. It's interesting how some features aren't grouped the same way as with most typical business software that combines CRM and sales and marketing automation. This could be from the fact that Hubspot is a 3-tiered, modular software where each upgrade unlocks some of its premium features. For instance, in order to use Campaigns, Landing Pages and Automation, you need to upgrade to Professional.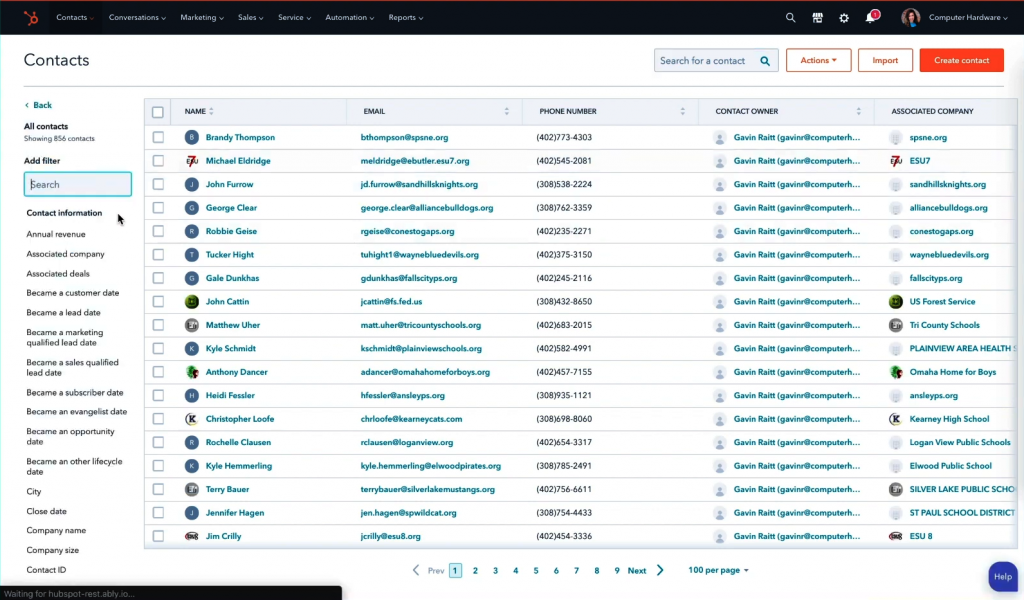 Hubspot allows you to do certain things on how you want data is presented for you. In Contacts, for example, you can instantly filter which contacts to show by clicking Actions on the top right corner or a particular category on the left menu.
To see which contacts you need to be contacting with or following up, you need to go to Tasks on the Sales dropdown menu. We found it rather tedious creating all these tasks manually. We prefer a CRM that gives us all current tasks like what we do with Small Business Dream instead of us figuring out whom to follow up or call next.
Categorizing is a little bit different, since users have to create a list first and fill it up manually by going to each individual contact. Another way to do this is with automation (creating an Active List as opposed to a Static List) where contacts who met a certain criteria are added automatically (or removed from it if they no longer meet the criteria).
Lead scoring is also a bit different. Using an Active List, contacts can be moved from one stage to the next via automation. Hubspot uses Lifecycle stage to determine whether a contact is a Subscriber, Lead, Marketing Qualified, etc. and move them to their appropriate lists. We found these to be nothing more than just creative ways of accomplishing pretty much the same tasks with most typical CRMs.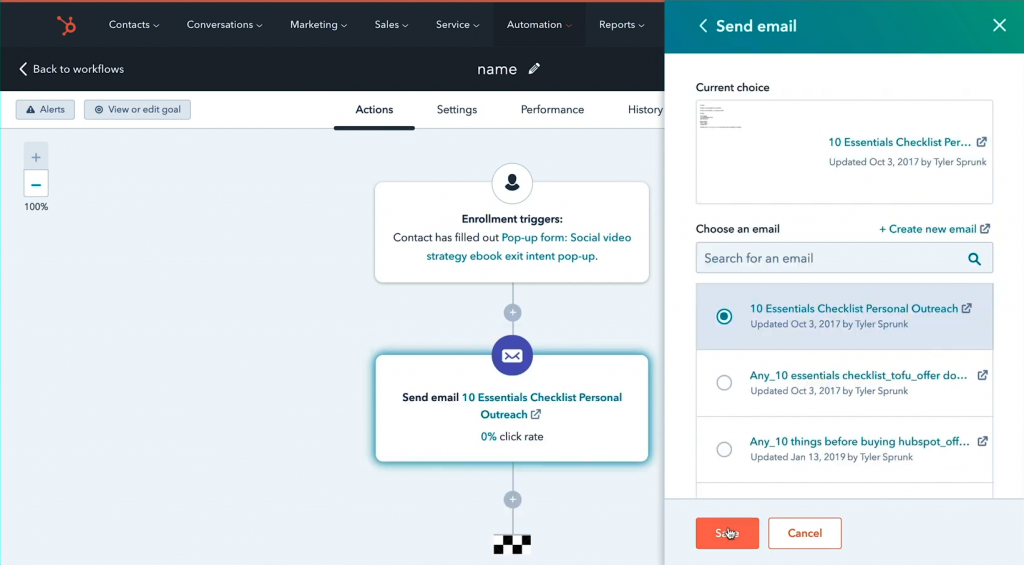 When it comes to sales and marketing automation, the concept is no different from Infusionsoft except that Hubspot named some stuff differently and moved things a little bit. Also, the process is somewhat more complex for the average user.
For instance, if you want to create a Campaign, you'll have to jump from one spot to the other to get the job done. You need all the assets first (emails, landing pages, social posts, etc.) and then start building your campaign, or, create one first and start working on the different pieces and assigning each of them to the campaign you've just created. We think it best to have Marketing and Automation together instead of having them in different silos. The simpler, the better.
Lead generation is also quite a challenge. They offer three ways to get people to their landing page for lead generation, namely email, social, and blog. This diagram sums up Hubspot's lead generation strategy.
Getting leads via email is somewhat like catch-22. You need to get them to your landing page to capture their email address, but first you need their email address. It only works when they're already in the system, and landing pages are actually used to nurture your prospects. So the only real options are social media and blog.

There's really not much when it comes to their social media strategy aside from usual scheduled posts, ads, etc. It used to be great, until everyone that has a pulse started using the same strategy. So unless you take an active role in finding these leads on social networking sites and following up on them on a regular basis, your social media campaign will amount to nothing. We've found a way to do hundreds of social media communications by designing a CRM and sales and automation software that puts emphasis on speed, efficiency and effective use of automation.
Blogging is also a part of their lead generation strategy which, unless paired with a good SEO/SEM and social media strategy, isn't really worth anything. You can write some of the most compelling blog posts but people might not even know they exist. You'll either have to hire an SEO in order to rank on Google or take it upon yourself to promote your blog content in every possible way.
Small Business Dream
So how does Small Business Dream compare to Infusionsoft and Hubspot? In essence, all three of them are capable of achieving what they're designed to do, but there is one deciding factor which we think makes Small Business Dream a better choice – speed and efficiency.
We've stripped off all the non-essentials and simplified certain tasks so that even first-time users will get a sense of what to do when they get on board. One of the biggest drawbacks with most CRMs is that sales people are overwhelmed with too many features and business owners had a hard time getting their employees to use the system.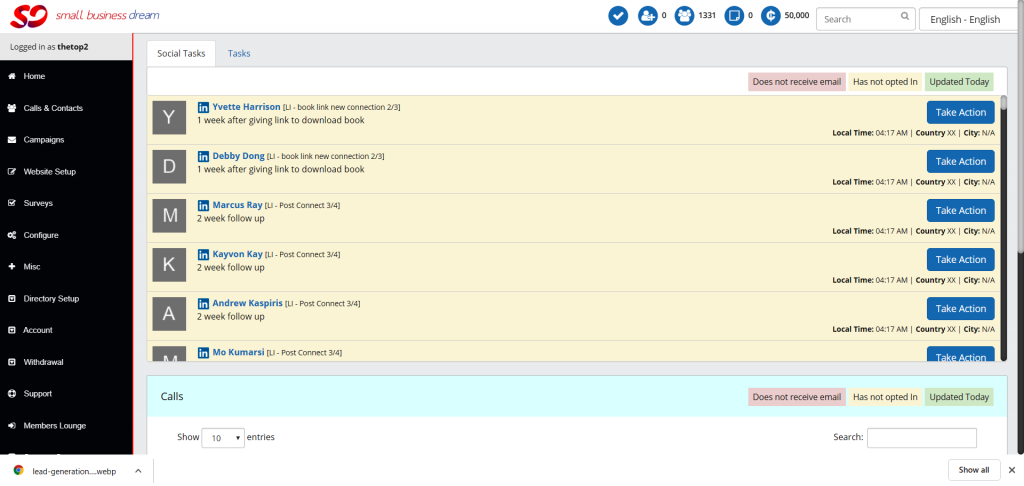 It comes pre-loaded with templates and digital assets for many types of businesses. But if you want one that's already set up for your specific kind of business, you can also avail of our turnkey solution – the Small Business Dream "done-for-you" (DFY) package – where we set up everything for you, ready to use.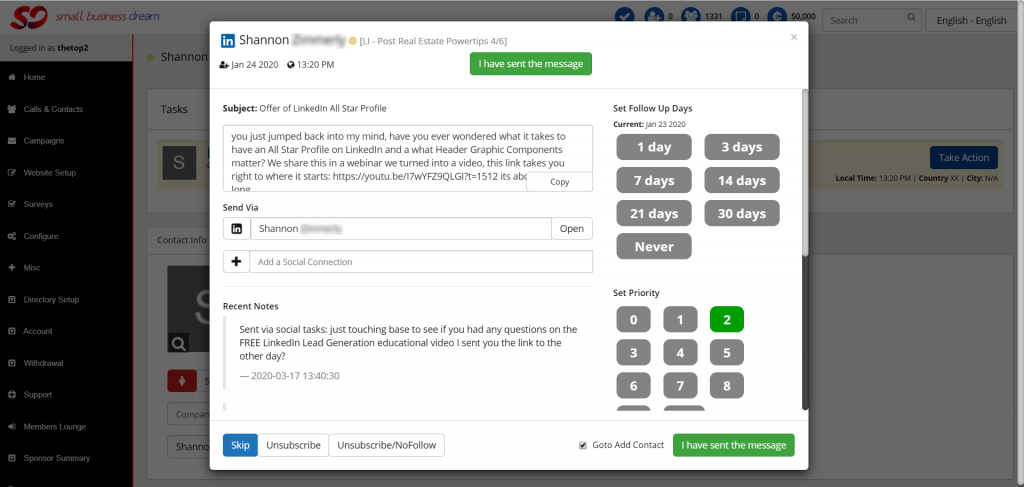 One thing you'll notice when using the system is how all the pieces fit together seamlessly allowing you to approach your tasks in a variety of ways. In this example, you can adjust the follow up date, set the priority, view notes about recent activities, and tweak your message before sending them out – all in one go. Once again, speed and efficiency.
The CRM is the simplest that you can get in a small business software that contains all the vital information about your contact – everything from email and social media subscriptions, recent communications, priority (lead scoring), categorization (tags), next follow up date, and so on.
Another important feature which we found very useful with CRMs is the ability to see all your current tasks in one place. We've set the Action List as the default screen when you log in to the system so you know which tasks you need to be doing first before moving on to the next.
Sales and marketing automation is noticeably simpler and easier to deploy compared to the other two we've just looked into. In fact, you can just spend an hour or two training your employees and they'll be able to find their way around much quicker. It also comes with the standard landing page builder (with templates), sales funnel, survey builder, swipe copy, email series, social series, etc.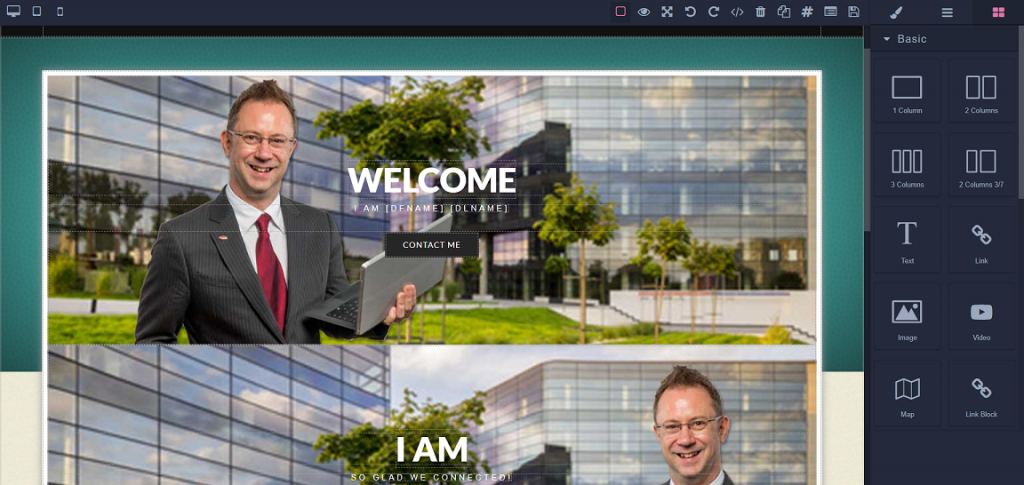 The Secret of Getting Unlimited Leads
Lead generation is the Achilles heel even amongst popular CRMs sales and marketing automation software. Infusionsoft and Hubspot is our case in point. If it couldn't generate enough leads for your business, nothing else would matter. This is the concept behind our Small Business Dream CRM and Sales and Marketing Automation suite.
We've created a 360° solution for all kinds of businesses from health, restaurants, auto, real estate, etc. to help them get more customers in a number of ways.
These include:
LinkedIn marketing using SBD sales and marketing automation
SBD Virtual Business Card Button App
SBD Business Finder and Joint Venture Mobile App and Business Directory
Mobile Sales and Marketing Automation App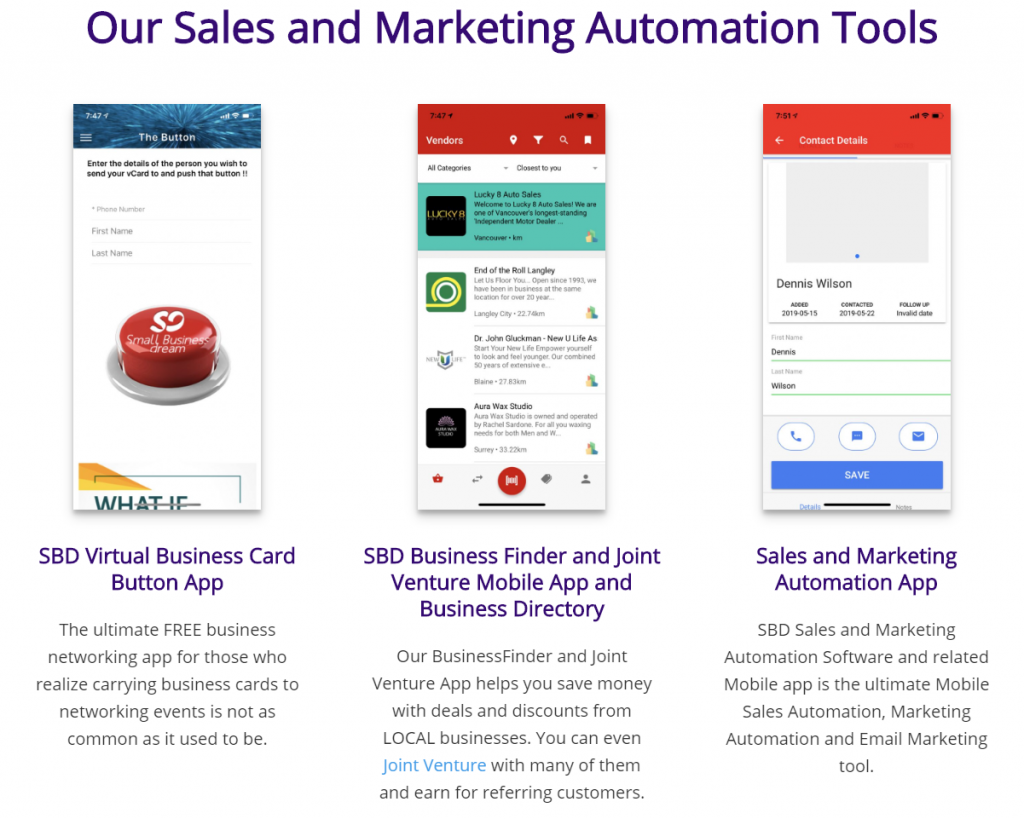 LinkedIn + Small Business Dream
Our LinkedIn strategy is designed to get thousands of qualified leads using highly targeted searches and SBD automation. We've written an entire blog article on this LinkedIn strategy that helped our clients grow and build successful businesses.
This involves:
Creating a professional-looking Linked profile
Connecting with clients using Small Business Dream; and
Following-up after establishing that connection
Now you might think, "Okay, so I'll just make thousands of connection requests," and start clicking the 'Connect' button for hours. It turns out this method is not only ineffective; it's the easiest way people wind up in "LinkedIn jail." We've developed a LinkedIn strategy which allows small businesses to get thousands of qualified leads with the power of Small Business Dream.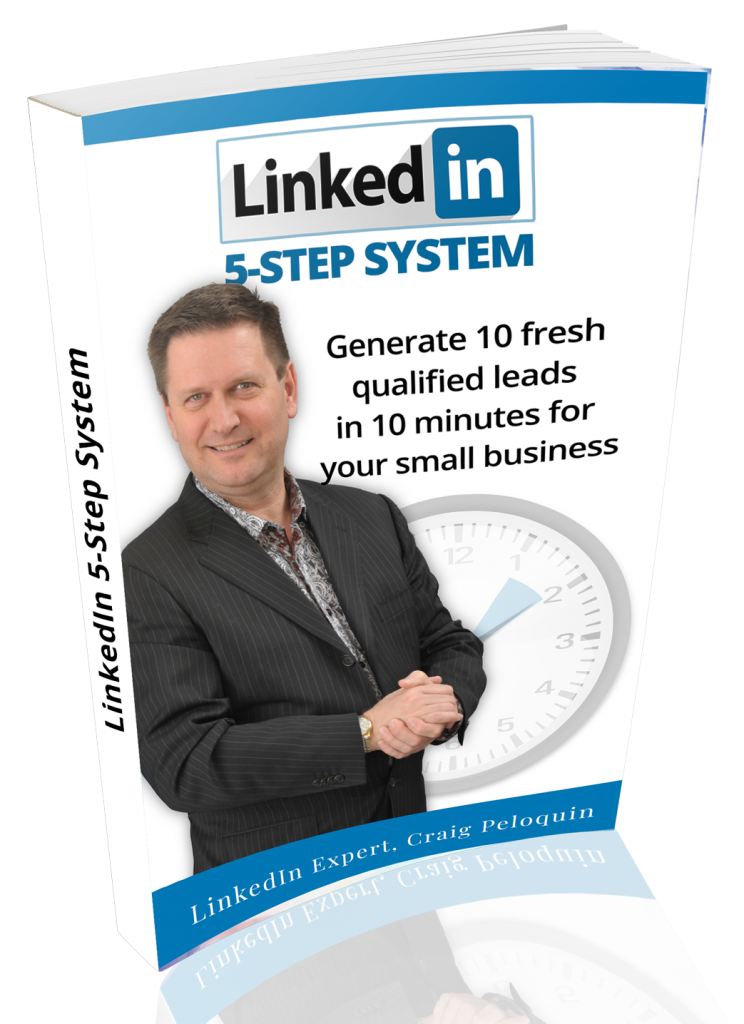 To learn more about our proven technique, you can download a FREE copy of our book, "LinkedIn 5-step System: Generate 10 fresh qualified leads in 10 minutes for your small business, where we reveal everything from setting up an all-star LinkedIn profile to turning your connections into brand advocates. Note: LinkedIn profile update is included in our done-for-you (DFY) version of Small Business Dream.
Need Help Finding the Right CRM?
Why not spend some time with us? Schedule a FREE 45-minute business consultation with us and we'll reach out to you in every way we can to help you with your real estate business.
Take a look at our 5-step Rapid Sales Growth Blueprint where we lay out every possible means to rapidly grow your business, whether it's through LinkedIn, Facebook, Twitter, email series, sales funnels, landing pages or business directories.
Want to stay mobile? Get our SBD Sales and Marketing Automation App for your mobile and keep tabs on your business everywhere you go.