We covered the importance of joint ventures in one of our previous blog and how they work wonders for a lot of small businesses. We also talked about the different types of joint ventures and showed you how to set up yours using Small Business Dream's Joint Venture (JV) module.
Today, we'll be focusing on building your brand through joint venture partners, particularly those who have already gained considerable success or have built a massive following as influencers and experts in their own field. So we're not just looking for random leads but potential business partners that would allow us to target a specific audience on a greater scale.
The stakes are higher for these types of connections. We're looking at high-volume sales, repeat customers, and brand awareness. With the right strategy and the right tools in place, you'll be able to build your brand much sooner using joint ventures than spending thousands of dollars on traditional ads.
Key Points to Remember
Since we're looking for business partners with potentially large lists, we want to make sure our partnership is worth their time and effort (mutually beneficial). It should answer the question, what's in it for them or why they should bother partnering with us.
1. You offer something of great value to people on their list (your target audience). There are two ways your business partner can benefit from a joint venture. Aside from additional income streams, you provide their clientele quality goods, products, and services which in turn attracts more customers. One example is a fitness expert who partners up with a nutritionist that offers 5-10% on supplements to boost performance, speed up recovery, etc. The gym owner gets his share on every product sold, but he could also grow his client base for offering great products customers love – it's a win-win situation for both.
2. You've established a sizeable network. Your prospective partner wants to know if you're the real deal. One way to prove your credibility is the size of your network. Most business owners go to LinkedIn, considered as the most trusted business-oriented social networking site to date. Typically, they'd look for someone north of 500+ connections. You might already have a LinkedIn account, which is great. However, if you've had problems bumping up your connections (e.g. you get thrown into LinkedIn "jail" or you get a lot of rejections), we highly suggest downloading our FREE ebook, "LinkedIn 5-step System: Generate 10 fresh qualified leads in 10 minutes for your small business."
Where to Find Your Potential JV Partners
Technology makes it so much easier to find your ideal business partners. In our experience, a combination of online and offline research proved more effective than just relying on one type of engagement.
1. LinkedIn. Compared to other social networking sites, the barrier to entry is higher in terms of building your own network on LinkedIn (you could easily wind up into LinkedIn "jail" if you're not careful). So when you find someone with more than 500 connections, you know for sure they took pains building that network. Research your potential JV partner by narrowing it down to a specific industry and location. Take some time reading through their profile. Get a CRM or sales and marketing automation software to help you with your initial contacts and follow-ups (it's easy to get lost once you've reached 100 to 500 invites).
2. Conferences and networking events. There's nothing quite like meeting up with successful business people and getting to know some of the industry leaders in trade shows, business conferences, and networking events. We meet with a lot of business owners each week on our Vancouver Business Network (VBN) events where we get to know their interests and how we can be of help. We've been to a lot of conferences and associated with some of the industry greats like Kevin Harrington, Matt Astifan, and Trevor Linden.
We've dedicated an entire blog article on how to get the most out of business networking events where we talk about the dos and don'ts, and how to stay top of mind after making that initial contact with a potential business partner.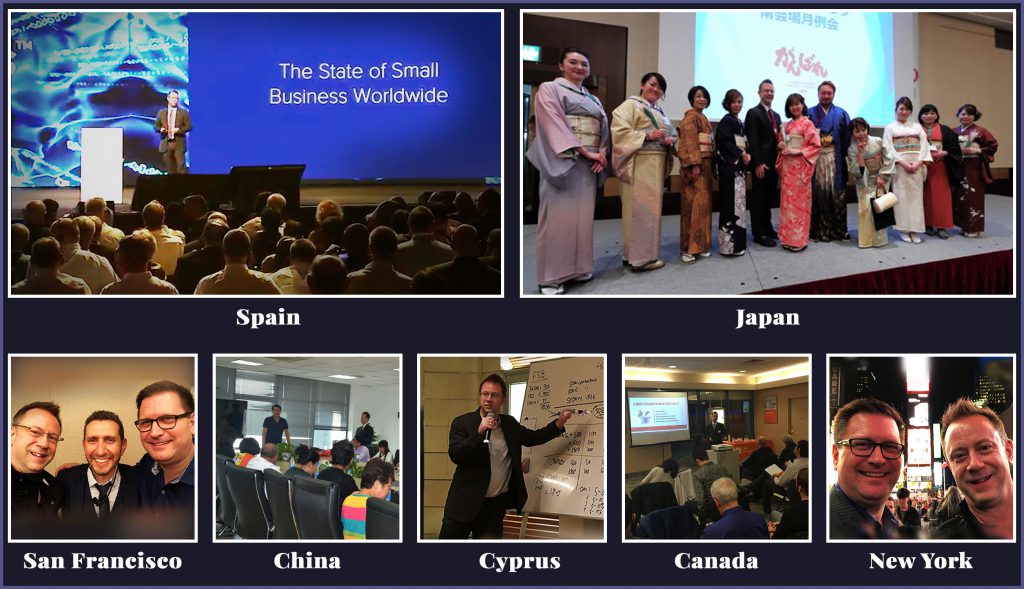 3. Educational sites offering free content. Ever wondered how content creators make good money without spending anything on a physical store or product? It's because they've got something every business owner has always wanted – a huge list of highly targeted audiences. Blogs and YouTube content per se don't make money, but they're able to attract huge crowds of people looking for a particular topic on the internet, also known as "inbound marketing." This makes them extremely valuable. Kind of like affiliate marketing, but we're partnering up with them to get commissions on every sale. We gain access to their list; they get their share – pretty simple. Think of it as spending your marketing budget on a JV partner instead of squandering it away on traditional ads.
How to Make and Maintain a Successful Joint Venture
Going on a joint venture with big time business partners is probably one of the best investments you'll ever make. After finding a potential JV partner, take some time warming up. Strive to build trust first with the goal of becoming business partners. Make friends, go to their events, comment on blogs and YouTube video, and so on. Once you're able to build rapport, the rest should come easy.
1. Prepare your swipe copy ahead of time. How do you start a conversation with a potential JV partner? Do you go straightaway and throw up all over them and tell how great your business is and why they should be partnering up with you? That's probably not going to work. You need to have your swipe copy that's been tested and re-tested multiple times ready at your disposal. After many years of creating and curating thousands of swipe copy we're able to come up with some of the most effective email and social media series across multiple industries from real estate, restaurants, hair salons, auto industry, etc. in our Small Business Dream sales and marketing automation software.
2. Keep those follow-ups rolling. Follow-up seems a bit like a chore, but you cannot underestimate the importance of follow-ups when trying to land a joint venture with successful business owners, industry experts, and influencers. Strive to keep their interest. After making that initial contact on LinkedIn or email, offer some of your free content such as e-books, blogs, YouTube posts, or video recording of your recent webinars. Time your follow-ups appropriately. Just because they haven't replied to you in a week or month doesn't mean they're not interested. You might not believe this, but we had a client once whom we've followed up for more than 10 years before finally buying our software. The gold is in the follow-up.
3. Always keep your JV partner happy. You've spent a lot of time and energy finding your JV partner so it's in your best interest to keep your relationship strong. It's especially important if you're aiming for high-volume sales, repeat customers, or if you're dealing with high-ticket purchases like auto and real-estate from your JV's long list of potential customers. Be clear on your terms and conditions. Don't overdo it. In most cases, a simple agreement between you and your JV partner will suffice.
Need more advice on joint ventures?
We'd like to spend a moment with you. Check out our 5-step Rapid Sales Growth Blueprint where we lay out every possible means to rapidly grow your business, whether it's through LinkedIn, Facebook, Twitter, email series, sales funnels, landing pages or business directories. Or, you can schedule a FREE 45-minute business consultation with us and we'll reach out to you in every way we can.
Want to stay mobile? Get our SBD Sales and Marketing Automation App for your mobile and keep tabs on your business everywhere you go.