Today we'll talk about LinkedIn, and how almost any business can use LinkedIn to increase their sales and not tick people off in the process.
LinkedIn and Facebook are the two big ones that we use. LinkedIn is required in most businesses, particularly in North America. I didn't start using LinkedIn 'til only about five or six years ago. At first I was like, "What the heck is LinkedIn? How's that going to help me? Isn't that just really for putting your resume up online and people follow what you do?" That was the question I had. So, I started looking into LinkedIn and developing a LinkedIn profile.
How Important Is Social Credibility in Business?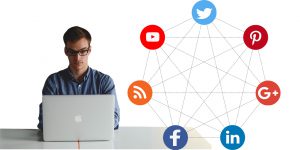 I realized how important it was to add credibility to who you are in business. I've seen a lot of good profiles and bad profiles (profiles with pictures of their dog instead of their actual picture, pictures that were cropped out from a group photo, pictures that are out of focus or have a really bad background, pictures that are not professional-looking, etc.).
LinkedIn is not Facebook. It's not for posting what you had for breakfast or for dinner. If I'm going to be looking for people I want to do business with, I'm not going to Facebook, first; I'm going to LinkedIn.
Collect Data at a Networking Event in 3 Simple Steps
There's a neat little system you could do at a live networking event using LinkedIn to capture the whole room's data. Here's how it works: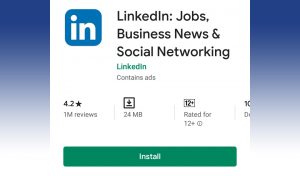 One of the things I learned by me starting just from scratch over the past five or six years is there's a way that you could get everybody in LinkedIn if they have the app. It's really important that you download the LinkedIn app to your phone.
2. Be in control of the room. Find an opportunity to 'control' the room and get a chance to get the microphone to tell everybody to open up LinkedIn. At the very bottom of the LinkedIn app there are five icons. The first one looks like a little house. The second one is two people sitting side-by-side (that's the one that you want to click). When you click that button, most of you in your LinkedIn app will have a little blue circle appear on your bottom right corner of your screen.
3. Find other users in the room.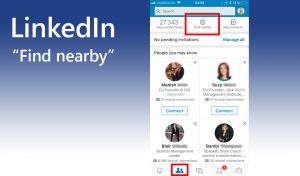 That little blue circle has a picture of a person with a plus button. Clicking that little blue button opens up three menu items on your phone. The very first one says, 'find nearby'—that's exactly what it's going to do. Turn it on, and now everybody that is in the room that is on this page in LinkedIn will appear so that you can connect and talk with them right there in the app.
They need to make sure they're doing it on the app, they've enabled Bluetooth, and they need to enable their location services—couple of things they have to do, but LinkedIn will let them do that right off the bat and you can use this to connect with an entire room in seconds. It's really interesting because it works off of a Bluetooth mesh, so it's not even a matter of it only meets people as far away as your phone's Bluetooth circumference. It actually goes to the farthest guys in the room's phone. We've been at events where we actually picked up on someone that was at a train station a good mile from where we were. So, it's really, really fantastic technology, but it only works if you're 'in control' of the room.
Things to Keep In Mind
1. Ask for permission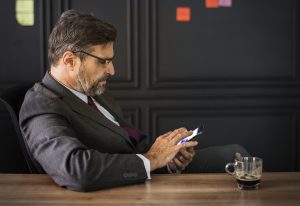 My recommendation is, if you're going to try to do this tip during your 30-second or your one-minute personal introduction in a room, make sure you have the organizer or the main speaker's permission, because if you go fire up something like this and the speaker wanted to keep the data only for him, you could really, really frustrate someone and probably not be welcomed back to their events again. So, make sure you get permission.
If you're worried about 'giving away your data,' it's actually the opposite. What we found is everywhere we've done this, the tone of the event changes to, "Wow, this is one of the best events I've been to. I got some really, really helpful tips that I can take away and use in my business." We talked about it at a big event, but it also works if you're just sitting around a boardroom with a bunch of people and you all want to connect real quick. It's extremely fast compared to any other way of connecting with people.
2. Make People Want to Connect with You
We have some networking events that we go to every week. When I stand up to do my forty seconds, they know what I'm going to do. They've already got their phones out, they're already on LinkedIn, they're all ready to go and get in the room because they know the power of being able to connect. You become the 'hero' that everybody connects to with, and you know that the speaker is going to forgive the fact that you take one minute and forty seconds instead of your allotted forty seconds because it does take a little time to get everybody to turn it on and get interacting with you.
You need to be animated when introducing this cool tip. Stand up and get everybody to hold up their hand. When I do it I tell everybody, "How would you like to connect with everyone in the room, raise your hand. Hold your phone up. I want you to use your phones right now. Get your phone in your hand. Everybody, put LinkedIn on your phone. Open your LinkedIn app. Raise your hand when you've got LinkedIn on your phones." Make it interactive. Step by step, tell them exactly how to do it to get in there and then connect.
Now, if you're not going to send somebody a message, don't do it. Just connecting with somebody doesn't do you any good. At least reach out and say, "Hey, what did you think at the event tonight?" Do something, say something, and make that connection. This helps you remember where you met them. So, for instance, if you copy and paste it to everyone you're connected with and you get good engagement right away, you'll be able to see where you met them when you open them up in the future.
Why Small Businesses Should Use LinkedIn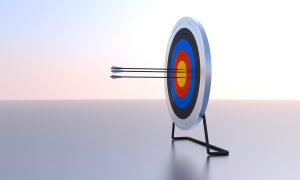 So how can a business owner actually start increasing his sales from the comfort of his bathrobe, over the morning coffee with a LinkedIn system that allows people to literally sharp-shoot the best people as far as their ideal client, tracking, how much work's involved, and what the flow of the messages are? You create the engagement instead of just being another person that sends you the 9-page introduction the minute you connect to them.
What many smaller businesses don't have is a big budget. Same with small businesses, say, a restaurant that's not busy for three hours in a day, or someone who owns a clothing store, or a hair salon. Here's something you can do with a free LinkedIn account. You don't even need premium or Navigator. You do it with free and you could target demographics.
The great thing about LinkedIn is you can go and you can only search, say, for CEOs in Vancouver, you can search for anybody that has a certain thing in their description somewhere in their profile, like a title or a job description, skills—any of these things can all be searched for in LinkedIn.
Let's say you're a travel business—cruises and all. You could search for certain areas and search for certain likes and skills. You could search for people that are in the right demographic area like people that are most likely traveling. A teacher maybe? They get their summers off and they've got the holiday time. They probably save up for a vacation. Maybe that's your perfect kind of client.
Be sure to put some thought into this step, because if you target the wrong people it's not going to work. So, you do need to think outside the box a little bit in trying to define what demographic of people through what LinkedIn allows you to select (and it shows you all the things you can select from) would lead you to your people. So, it's a really important part of your system that doesn't even really get written down other than 'go look for the kind of people you're looking for.' Defining that and figuring out how to search for them is half the battle.
Once you've done that, my system is simple. You're going to reach out to and attempt to connect with 10 people a day. Consistency is key, and you do it the first thing in the morning. First thing with your morning coffee or your morning breakfast, have your computer out, your LinkedIn out, and attempt to connect with ten people in your demographic.
We have this availability in Small Business Dream, enabling users to track it all in the software, but you can do it manually with a spreadsheet. There's lots of ways to do it. We just happen to have a tool that makes it really efficient. In other words, we're giving you a great system but we just think it's better if you use our tool.
The 10-a-day Rule — and Why It's So Effective
I've used the system for years, taught the system to people in different businesses to be able to use it effectively, and what I found is that most people don't have a lot of time. So, if I can show you how to use it in just 10 minutes a day to connect with 10 new people every day and then do the follow-up, they'll give that a shot. I could find 10 minutes in the morning before I head off to work. You do need to find the time to follow up as well, so this will take up to an hour a day, throughout the day, but at 10 a day you can handle this follow up.
You're going to get some follow ups and some questions back. If you do 50, you're going to get a lot more questions back, but then you're going to have even more follow-ups. Next thing you know, you're into eight hours every third Friday just because that's how things start to fall. So, spreading it out will keep it much more consistent, easier to maintain and easier to keep up to date with.
Ten is a magic number. That means you would attempt to connect with every day, 300 people every month (that means you're working weekends, or, just do twice as much on Friday). Out of the 300 people, only about 25% are going to accept your connection, and out of those 75 people that accept your connection, only about 25% of them are actually going to engage with you. So, only about 15 or 20 people will actually turn into a conversation. And out of that, only 25 percent will turn into a possible conversation. So, four or five, and maybe only one will end up being the customer.
Create a Sales Funnel to Boost Online Engagement
Of course, you can increase your odds to a degree with things like a lead magnet where there's a free giveaway (if it's relevant to them), or a free call. A lot of it will depend on what tools you have in place to create the maximum amount of engagement. So, having a simple lead magnet funnel where you can collect their data outside of LinkedIn and with the right giveaway or giveaways, you might be able to increase that and create engagement a little bit more because you're offering help. Don't give them something they don't need. Send them to a lead magnet funnel type scenario if what you had you knew could benefit them without a cost. So, it's not a salesy thing; it's a true benefit.
If you go to 88ur.com/craigbook, it will take you to a sales funnel that will allow you to put in your name, your email and click a button, and you'll be able to download my book. You'll be able to learn the whole system step by step on how to increase your sales quite rapidly again. If you have the time and you can do 20 a day and you're ready for the 'snowball effects,' you can do it faster. If you have an employee who's underutilized, it doesn't have to be you.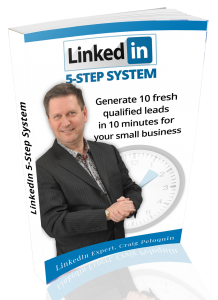 Once you've actually written all of the follow ups, directions and the content that you want to use through your follow up, you literally assign this to a personal assistant. You can assign it to your daughter, to your son, to your friend's daughter. It doesn't have to be you until things get serious. When they get serious your assistant, or whoever is operating the controls for you, would then just reach out and say, "Hey, you need to intervene with this person because they're ready to talk." The great thing about my system is it's not confined to LinkedIn.
I wrote specifically for LinkedIn, but you can do the exact same system in Facebook. It's not as easy to target and find people in your demographic without ads on Facebook (Facebook really doesn't want you reaching out and doing stuff). But with simple ad campaigns or reaching out to your friends, it could work. So, there's definitely ways to be able to do that.
Final Thoughts
Ultimately, at the end of the day, the way my LinkedIn system works is not to rely on LinkedIn. You need to pick up your phone and talk to people you need to as quickly as possible, making a real genuine engagement and have a conversation. You don't want to talk for hours. Also, try to get out of LinkedIn because a lot of people don't have notifications on in LinkedIn. Some only check it once every three or four days, so quickly in your process, you want to try to capture their contact details whether it be phone number, email, etc.
Another way to contact them outside of LinkedIn is by trying to build your list. Build your Linkedin list into your actual money-making list. It's essentially your goal. Consistency is everything on LinkedIn. If you're brand new, the magic number to get started to get to a number of connections is 500. You'll see in your profile how many connections you have whether it's under 500, and then it goes 500 plus. You could have a thousand. That way people will connect with you better, you'll find your connection rate will increase the more connections you have.
Also, make sure that you send a custom message when you ask to connect with somebody. Don't use any of the LinkedIn default stuff. That's what the lazy people do and that's why it doesn't work. If you download a copy of my book, I show you some things that I use that are really popular, that work well, to be able to increase the engagement. If you can turn that out of the 300, increase it from 25% to just 35% accepting your friends in LinkedIn requests, to 50%, that would be great.
I now typically get around 75% of the people that I asked to engage and connect with me; they accept my connection. Why? Because I have over 6,000 connections on LinkedIn right now, and I've done that organically with people, not through any system, but it's my own system—nothing automated, one person at a time, connecting with the right people to build my businesses.
If you're interested in learning how to increase your sales quickly with LinkedIn, go to 88ur.com/craigbook. If you do decide you need software to help you do it more efficiently, Smallbizdream can help.